Safari After Sunset: How To Enable And Enjoy Dark Mode  
It would be helpful if you want to enable Dark Mode for Safari on an iPhone, iPad, or Mac. After spending a lot of hours on your iPhone or Mac, your eyes may hurt. Usually, small fonts and bright light lead to headaches and eye strain and might decrease focus.
Window users have already been used to Dark Mode. But now Safari has also come up with a dark mode feature after so long a time. In this article, I will discuss how to enable Safari Dark Mode and the benefits of using Dark Mode features.
Read below to continue…
What Is Dark Mode?
Dark Mode is all about making your screen black and white. This is one of the best features people use to keep their eyes strain-free. Below, I am going to discuss what safari dark mode is.
Do you know you can call it 'night mode.' This is one of the best features which reduces screen brightness. In this way, you can save your device's battery life. Many people might use a dark screen to decrease the ambient light, especially while lying in bed and looking at their phone. You might be surprised that dark was around before, but people weren't very aware of this.
How To Enable Dark Mode In Safari?
Recently, developers have made it easier to enable Dark Mode, like enabling YouTube Dark Mode for all common applications. Do you know why? People usually love to use Dark Mode because it helps to keep their eyes comfortable. Now, Safari has also come up with a Dark Mode feature. Below, I will discuss enabling the Dark Mode feature in Safari.
How To Switch On Safari Dark Mode On A Mac?
First, click on the Apple menu and then tap on System Preferences.
After that, click on 'general.'
Then, in the appearance section, you will get three options.
You can choose 'Dark' or 'Light' or 'Auto.'
This process is as simple as enabling Dark Mode on eBay.
The Ways Of Enabling Turn On Dark Mode On Safari On An iPhone Or iPad
First, click on the 'settings' on the application.
Then click on 'Display & Brightness'.
After that, under 'Appearances', you will get two options
One is 'Light' and the other one is 'Dark.'
How To Use The Dark Mode Extension In Safari?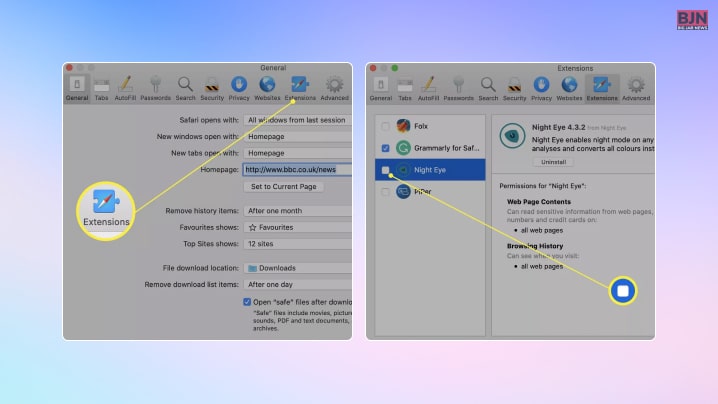 If you want to turn on Dark Mode for every website, use a Safari extension. Below, I will discuss how to use the Dark Mode extension in Safari.
First, install Dark Reader or Night Eye from the Play Store of the Mac App.
Then open the Safari Browser.
After that, you must navigate to 'Preferences.'
Then tap on the Extension tab.
Then check the box which is next to your newly installed extension.
Then, enable the Dark Mode.
After that, these extensions will convert most websites to Dark Mode when you require this.
What Are The Pros And Cons Of Using Dark Mode In Safari?
Dark Mode is one of the most popular features, which increases the user interface overall. This is also one of the most popular elements which is claimed to be. Below, I will discuss the pros and cons of using dark Mode in Safari.
Pros Of Dark Mode
Do you know how powerful Dark Mode is when it comes to marketing? Well, Dark Mode is one of the most popular themes in strength, boldness, sophistication, formality, and luxury. These are important when it is about appealing to traits. This is mainly helpful when a company wants to highlight specific content. For example, Netflix, one of the most famous

online streaming websites

, is designed in the dark Mode. Do you know the reason behind this? Because your eyes can only focus on colorful movies or TV shows.
On the other hand, using Dark Mode is one of the most beneficial things when

saving your device's battery

. In this case, Dark Mode reduces the display power up to 60%, which is helpful. This will significantly reduce the battery life on specific websites and applications.
Dark Mode is one of the most valuable features, so it will help reduce the amount of eye strain. It has been seen that whiter backgrounds harm users' eyesight because of the intense color contrast in less light conditions.
Did you know Dark Mode will significantly decrease the rate of glare and brightness on your phone? The more you minimize the potential blue light, the more it will be associated with bright screens.
Cons Of Dark Mode
Do you know Dark Mode is an excellent theme in less light conditions? This means that using your white background screen at that time will badly affect your eyes if you are in a low-light environment. But also, Dark Mode makes the text look harsh in bright light conditions. This contrast will keep your eyes strained, and you must also put a lot of effort into reading the texts.
While you are going through any short-form content in Dark Mode, it is easier to digest. However, reading long pieces of content could be more challenging to read against a dark background.
You can use Dark Mode during nighttime, encouraging you to use your phone for longer. But on the other hand, using Dark Mode can also help reduce the amount of sleep. In this case, your body doesn't give any signal which will stop you from staring at your phone.
In Conclusion
I have discussed how to enable Safari dark mode and the benefits of this above in the article. Dark Mode has a lot of benefits, but at the same time, it has disadvantages. It is one of the simplest things when it comes to turning on Dark Mode for Mac in Safari. After all, using dark Mode at night is one of the best options to protect your eyes late at night or even in very dim light conditions.
On the other hand, you can do this device-wide. In this case, you just go to the device's settings and then navigate to turning on Dark Mode. This will fully protect your eyes, mental health, and many others. I hope you liked this article. If you wish to know more, let me know in the comment section.
Learn More About:
You May Also Like