Do you think buying paintball gear online is a bad idea?
With today's high level of Internet connectivity, it's surprising that many people still don't think of buying paintball equipment online. Instead, they end up either overspending by buying paintballs at pro shops or settling for unideal products.
With this in mind, and with the right effort, you can make the right choice of purchasing quality gear at low prices.
Keep reading for some tips on buying paintball gear online and purchasing the best equipment.
1. Compare Prices and Reviews
To get the best deal on paintball equipment, comparing prices and reviews from various sources is essential.
The best way to do this is to use an online search engine such as Google, Yahoo, or Bing. This will allow you to compare prices and reviews from various online retailers.
Another great way to find good deals on paintball equipment is to follow paintball forums and paintball social media accounts. These sources often provide excellent information on where to find good deals on paintball equipment.
Remember that it is always important to use caution when buying anything online. Only purchase from reputable sources and always use a credit card that offers buyer protection in case of any problems.
2. Choose a Reputable Online Retailer
Always make sure to choose a reputable online retailer. There are many reputable retailers out there, but there are also many that are not. Do your research and make sure you are buying from a reputable source.
There are many different types of paintball equipment, and it can be overwhelming to figure out what you need. Know what you need and what you want before you start shopping.
Don't be afraid to compare prices and options before purchasing. Most reputable retailers have a good return policy, but it is always good to double-check before you make your purchase.
By following these tips, you will find the best deal on paintball equipment online.
3. Know What You Need Before Shopping
Paintball guns, also called markers, are essential equipment. Paintballs and CO2 or compressed air are also necessary. You will also need a mask, hopper, air tank, and clothing. Once you know what you need, research different brands and models of equipment to find the best deal.
There are a few things to know before buying paintball equipment online. First, consider what type of paintball you want to play. There are three main types of paintball-woodsball, speedball, and scenario.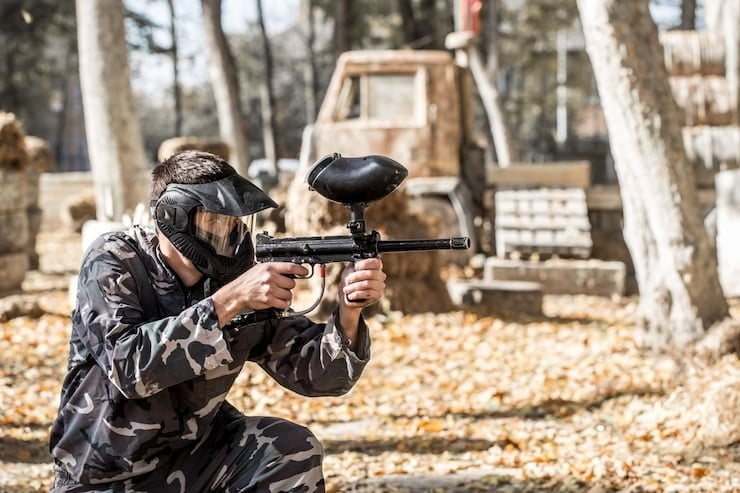 i. Woodsball
It is the original paintball, played in the woods with bunkers and covers.
ii. Speedball
It is a fast-paced game played on a smaller field with inflatable bunkers.
iii. Scenario
It is a mix of the two, with larger fields and a variety of objectives.
Buying paintball equipment online can be a great way to start the sport, as long as you do your research first.
Read reviews from other players to get an idea of quality and performance. You also need to ensure the website you purchase from is reputable and has good customer service.
4. Be Aware of the Shipping Costs
They can vary significantly from site to site and even from item to item. Sometimes, the shipping cost is based on the item's weight, while other times, it is a flat rate. Be sure to check the shipping cost before finalizing your purchase.
Some retailers offer free shipping on specific orders, while others may charge a flat rate or calculate shipping based on the items in your cart. Shipping costs can add up quickly, so factor them into your budget.
5. Check the Return Policy Before Making a Purchase
It is essential to make sure you can return the item. Most sites will allow you to return an item for a refund or an exchange if an item is defective. Some areas may have a no return policy or only allow returns on certain things.
It is essential to read the return policy before purchasing to avoid any issues. You may find that the store will not accept returns or that there is a restocking fee.
6. Consider the Delivery Timeframe
You need to check the delivery time frame to ensure that your equipment will arrive in time for your next paintball event. Most online retailers also offer express shipping for an additional fee.
This option guarantees that your equipment will arrive within a specified time frame.
7. Know About the Guarantees and Warranties
When buying paintball equipment online, pay close attention to the guarantees and warranties offered by the seller. Many times, sellers will offer a limited warranty on their products, which means that if something goes wrong with the equipment, the buyer is only entitled to a limited amount of compensation.
In some cases, the buyer may even be responsible for paying for the repairs themselves. It is also important to read the fine print of any warranty or guarantee before making a purchase so that you know what you are getting into.
When you are buying paintballing equipment, you also need to make sure to check all the guidelines for this game. Discover more tips on paintball safety through this guide!
Choosing the Best Paintball Equipment
If you're looking to get into paintball or are simply looking to upgrade your current equipment, buying online can be a great option. There are a lot of great deals out there, but you'll want to be sure you're getting the best value for your money.
With these tips in mind, you're sure to find the perfect paintball equipment for your needs.
Did you find this article helpful? Check out the rest of our blogs!
Additionals: