Facebook Dark Mode: A Stylish Twist on Social Networking  

Dark Mode is one of the most certain fads that certain applications have been slow to adapt to enable this. Don't you want to know why using Dark Mode is beneficial? This is about reducing eye strain, improving readability, and making people who usually prefer darker aesthetics nicer.
Facebook introduced Dark Mode in the year 2020. This feature is about lowering the brightness of its interface, contrast, and reducing screen glare in low light conditions. If you want your device's battery life to be prolonged, you should use Dark Mode.
To know more, you should keep reading and learn about how to activate the Dark Mode on Facebook's website. In this article, I will discuss how to turn on Facebook dark mode and the benefits of using this.
Read below to continue…
How To Enable The Dark Mode On Facebook Application?
The Facebook desktop application has a lot of menu options that help you to enable Dark Mode. You can change Facebook Dark Mode from the Windows device settings as well. Below, I will discuss enabling Dark Mode on Facebook applications.
1) How Do You Change Facebook's Theme To Dark
First, open Facebook in any browser.
Then navigate to your profile icon, which is in the top right corner of the Facebook interface.
After that, you will get an option "Dark & Accessibility." click on that.
Then select "ON."
That's it!
In this way, you can turn on Dark Mode on Facebook.
2) How Do You Change Facebook's Theme To Dark By Using Windows Settings?
You can only do this if you are using a Facebook desktop application.
First, you must right-click anywhere on your desktop, then click on Personalize.
Here, you should click on the Colors.
Then, you will get an option to choose your Facebook theme.
Now click on Dark mode.
This way, you can turn on Dark Mode on your Windows 11 device and easily turn your Facebook to Dark Mode.
How Would You Be Able To Turn On Dark Mode On FB Mobile Application
You can do this easily by enabling Dark Mode in the Facebook mobile application. In terms of additions, you can also use the settings menu to turn on Dark Mode in the Facebook application.
1) Enabling Dark Mode From Settings Options In The Facebook App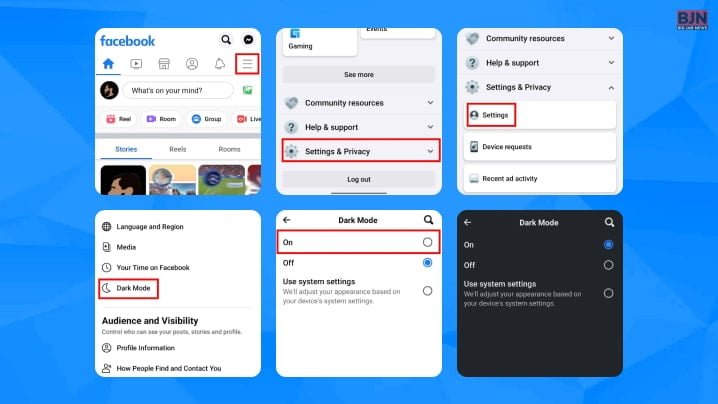 First, open the Facebook application.
Then, navigate to the top right corner and click the "Hamburger" menu icon.
After that, scroll down the interface, and below, you will get an option "Settings & Privacy."
After that, click on "Settings."
Then click on Dark Mode.
In this case, you will get two options: one is "ON," and another is "OFF."
Tap "ON"
Following this procedure will easily change your Facebook application's theme to dark; however, if you want to turn off the dark Mode, select "Off."
2) Enabling Dark Mode By Using Android Settings
If you want to use this feature, ensure your Android app is all set to "Use system Settings."
First, navigate to your device's settings.
Select display
After that, tap on 'dark mode'
In this way, you can also enable the dark mode system on your Android device. On the other hand, if you wish to turn off this dark Mode, simply follow those steps and select light instead of dark.
3) Turning On Dark Mode By Using iPhone Settings
First, open 'settings' on your iPhone.
Then select 'display & brightness'.
After that, click on 'Dark mode.'
Once you can enable dark mode system-wide, your Facebook app will follow the same. If you want to turn it off, then you have to follow the same procedure.
I have discussed enabling Dark Mode on every device, browser, etc. Now, it is time to discuss the benefits of dark Mode across the system.
The Benefits Of Dark Mode
Dark Mode has a lot of benefits while your eyes are on the screen. On the other hand, Dark Mode has several benefits to make a device sustainable. Below, I am going to discuss the multiple benefits of dark Mode.
1) Reduces Eye Strain
People who are in the profession of using white screens all the time face a lot of eye strain issues. This couldn't happen after the initial stage. But after using the white screen for so long, you might face multiple eye-related issues such as eye pain, headaches, double vision, blurred vision, and so many others.
In this case, using lowered brightness in Dark Mode is one of the easiest things to make your eyes comfortable. On the other hand, if you are working late or early in the morning, Dark Mode is one of the most beneficial things for your eyes.
2) Aesthetic Boost And Better User Experience
Do you know Dark Mode is one of the better choices for certain sectors and industries? In this case, brands mainly focused on entertainment and nightlife are perfect for using dark websites.
However, if you want to use your website as a status symbol, consider dark Mode one of the best options. In this case, you should use colors with high contrast between images or the text and even in the background.
3) Battery Saving
Regarding battery savings, Dark Mode is one of the best options. There are multiple digital gadgets along with OLED screens. In this case, using Dark Mode has many black pixels, saving your device's battery life by using less energy.
4) Prevents ADD (Attention Deficit Disorder)
If you are using white colors and backgrounds, then it means you are losing attention and focus. On the other hand, dark Mode will help you increase your focus by directing your attention towards the content displayed on the site.
In Conclusion
I have discussed how to enable Dark Mode on Facebook and the benefits of using dark Mode above in this article. Did you know the dark mode revolution is fresh, and many websites are still getting updated? This means it is the perfect time if you want to create something advantageous for your brand. Using dark Mode on Facebook has a lot of benefits. It helps reduce eye strain, prevents wastage of your battery life, etc.
Learning More The Othe Social Media App:
You May Also Like