Halloween parties are fun, but they can also be scary, but you know what is even more frightening? People not showing up to your Halloween party!? Yes, we all get invited to many parties and go to only one! And why does that happen? Because we all want to attend the most incredible party in town.
So if you plan on hosting one this Halloween, make sure people know! Here are five tips to help you design the most attractive Halloween party flyer so you don't end up alone with your pumpkin!
Choose Your Audience
Before planning anything, make sure you know who you want to invite. Do you prefer all the cool kids, or are you a nerd throwing a party for your fellow nerds?
Before you design your flyer, research and determine what will attract your targeted guests, speak to them in their way and catch their attention using things they would be interested in. If you're a party freak and want to choose a theme, then don't rethink. There are so many fantastic party themes to choose from, and we all know that themed parties are more remarkable than typical parties any day!
Decide Between Print Or Press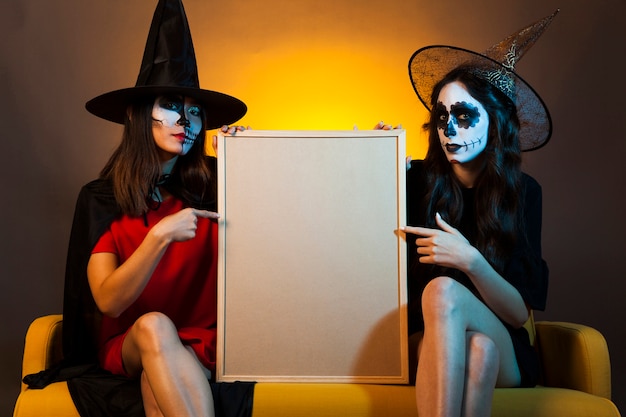 Before working on the flyer design, consider how you will distribute it. Are you going to get this printed professionally, are you going to hang it on your bulletin boards with tens of other flyers, or are you uploading it on social media sites like Facebook and Instagram?
Whatever you decide, your flyer design will be based on that. If you want your flyer to stand out, use bright, bold colors and large fonts to grab people's attention. If you are considering a digital design, design it in different sizes that suit each site. You can use websites like PosterMyWall with various features to help you with this.
Clear, Concise And Clean!
Save all the mess and blood for the party, and be clear, concise and clean for the flyer. Use unique fonts but make sure they are easily readable. A flyer with unreadable fonts and unclear or dull pictures is a big turn-off, and you don't want people to leave the party before it even begins (You get it?)
Use high-quality images, set a color theme that is attractive at first sight, and create a mood through the flyer that backs up the theme. Make sure you use striking colors, fonts and icons that complement each other.
Be clear about where the party is, the timings, and the activities you offer. A party invite becomes ten times more attractive if it clearly states all the details.
Take Help From Online Tools
There was a time when party planning was complex, and you would have needed to send letters as an invite. Thank god we are past that era. Now you have the internet and online tools for everything; an invite is just a touch away.
You don't have to be a professional to design a 'spooktacular' flyer; you just need to know the right tools. Take help from various design tools and templates available on websites like PosterMyWall. These websites offer hundreds of Halloween flyer templates to match your theme and make that perfect party flyer. The interface is easy to use, and you can do most of it for free! What else do you want!?
Run A Campaign
If your party is for a limited audience, you don't have to worry about this. But if you're hosting a gigantic public party, you should consider how people will learn about it. You need them to see your beautifully designed flyer and make them want to attend your Halloween Party!
You can start by sharing flyer copies with local shops and restaurants. This way, more potential party-goers will find you. Get your flyers pinned up on the bulletin boards of colleges, offices, and other public places. If you're a big brand and can afford advertisement and promotion, ensure everybody knows about the most exciting to-be Halloween party!
Remember to avoid using over-the-top or offensive language, no matter how cool it seems, and think about what you would like if you were a reader. Don't use triggering images; most importantly, don't forget to proofread!
We hope these ideas will help you design a unique and attractive flyer and that your Halloween party is a hit!
Read More: