The rose buds bloom in the final high school years and finally bloom in their college days. It is high time to enjoy the pinnacle of youth.
Of course, you get trampled by the quick schedules, weekly tests, and assignments. But you can also enjoy the fun side of it. Sneaking out of the classroom, having no routined lifestyles, casual jeans, T-shirts, and most importantly, fun memories of college dorm parties.
If you are in college, you should try to make the most out of it – both on the fun and academic sides. Anyways, if you are planning a college dorm party and are out of ideas, you can always get help from an experienced old owl – me.
I will tell you how to throw a college dorm party in this article. So without much delay, let's start.
Best Ideas For A College Dorm Party
Here are the best ideas for a party you will love to throw in your college dorm room —
Keep The Drinks Coming
If you are throwing a college dorm party, you need to keep the drinks coming. Nothing feels happier than having the freedom of drinking in the college dorm room. However, you should also keep in mind to restrict drinking to a limit and don't let your companions be too drunk.
Drinks will be spilled here and there and remain to lie around the dorm room. But you should make sure to clean them up. You should take advantage of relieving stress by drinking. However, you need to do it responsibly.
Read More: What to Look for When Buying a Sparkling Wine Preserver
College Dorm Party Decorations
You cannot enjoy a dorm room party unless the dorm room itself has a party mood. So no, you do have to make the dorm room look like a club. But you can always make a party mood with a little bit of decoration. You need some neon lights, a funky welcome mat, some wall decor, and music.
When decorating the wall, you can always use a tapestry. Pillows covered in fur can be a great addition to your party mood. Balloons and streamers are a must for parties like these. Also, since you are doing it with your college friends, why not print out some photos of you together and use a hanger for display?
Consent Is The First Priority
When throwing a college dorm room party, you should take the consent of your roommates and your neighbors first. You must ensure that they are okay with it and you are not disrupting anything for them.
It is good for you if they say yes. Even if they agree, you should always be reasonable and responsible for your actions. So, try to keep limits for every party thing you do.
Keep Limited Guests
A college dorm party is enjoyed at its best when you have the most amounts of friends. But don't you think inviting too many people over will make your dorm room cramped? Instead of making a wreck out of a party, you should keep the number of guests to a limit. Also, you should invite both your male and female friends to your dorm room party.
Don't Keep It Down; Also, Don't Amplify It Too Much
It is a college dorm party, and you should not keep it down. But, you should not make too much noise to disturb others. Since you have food and drink, keeping the music to a medium volume will help all of you enjoy it better. Play some light music. But avoid sluggish and sad music at all costs.
Things To Do At College Dorm Party
When you are with your friends, you don't have to worry about what to do. Still, if you need to know about different ways of enjoying your party, then here are some fun things you can do –
Costume Party Or Theme Party
You always don't need Halloween to dress up like a character from the movie you love. You can throw a themed party where you can ask your guest to dress up or do cosplay.
Back To School Parties
You can make the college dorm party the most fun of all time by asking your friends to wear their school uniforms for the fun event. It is awkward, but that is the fun of it.
Gaming/Betting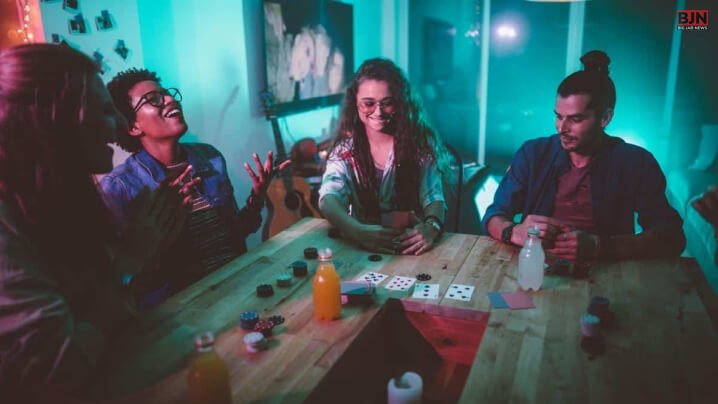 You can play a fun game at your dorm room party. No need for a PlayStation; you can play multiplayer games on your smartphones or play general ( truth or dare) games to enjoy a fun time. The best idea would be betting on the outcome of a game.
Read More: 9 Benefits of Registering on Khelplay Rummy
Karaoke Night
What is a college dorm party? Well, I am not telling you unless you are having a karaoke night at the party. You can find some hidden talents and enjoy a hilarious moment.
Frequently Asked Questions (FAQs):-
I hope you are able to enjoy your college dorm party to the max after reading this article. Here are some questions and answers relating to the same topic.
How Do You Throw A Good Dorm Party?
Although I have given the best tips above, here are some short pointers –
⦿ First of all, you should talk to your neighbors and roommates. 
⦿ You should also talk to your neighbors. 
⦿ Decorate and bring food.
⦿ You need a rocking playlist.
⦿ Keep the drinks to a minimum. 
⦿ Party hard but keep the noise down. 
⦿ Clean up once the party is over. 
What To Do In College Dorm Party?
Here are some additional college dorm party ideas.
⦿ Movie night.
⦿ Paint night.
⦿ Play a board game
⦿ Exercise.
⦿ Cook or bake.
⦿ Read a book.
How To Have Fun At A Dorm Room Party? 
If you want to have the maximum fun, you should pour yourself a drink first and find some cool and fun activities to do. You can play games or do other activities. But it is better to stay out of drinking games. 
Party Hard!
College students don't really need someone telling them what to do at a college dorm party. They have their own ideas and own things to do at a party. However, if you are looking for ideas, then the ones mentioned in this article should help you.
Also, you should try to be cool-headed and reasonable about your actions to avoid any unwanted events.
I think you liked what you read. If you have any queries, you can leave a comment below.
Read More: