The day that is most special for you is the day of your birthday. That is the only day of the year that is all about you and only you, and it should be like that only.
For your birthday to have a big celebration and party is very obvious. Celebrating your birthday with your friends and family is something that should be the highlight of your birthday.
But in the past few years, preparing a full-on birthday photoshoot is something that is a trend and will be like that for the next few years as well.
So if you are looking forward to picking the perfect outfit birthday photoshoot ideas, then keep on scrolling to look at the ideas that we have curated for your special day.
Outfit Birthday Photoshoot Ideas
If you are searching for the best birthday photoshoot outfit for you, then here we have curated the best collection for you to wear on your birthday.
1. White Tee With Denim Jeans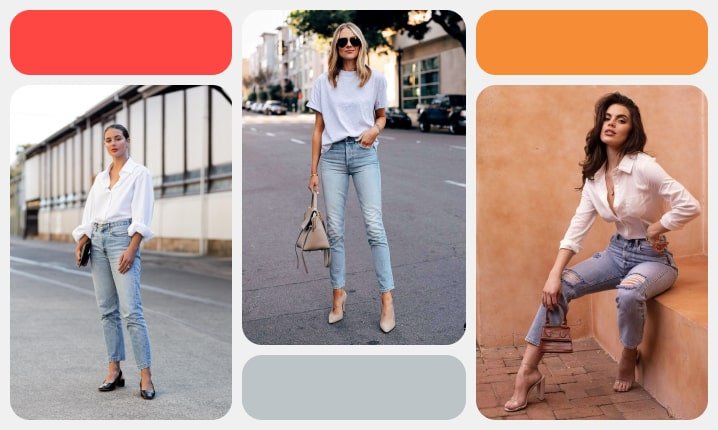 If you are looking forward to a classic photoshoot outfit for your birthday, then you can easily wear a classic white shirt and plain blue jeans.
This has been a classic combination for a long time, so it's better to keep the background simple and keep the photo all about yourself on your birthday.
2. Floral Dress
These floral dresses are beautiful and give a country feel to them. So if you want a beautiful outfit for birthday photoshoot ideas, then wear your beautiful floral dress and go to a nearby meadow.
If your friend is a good photographer, then you can easily get beautiful pictures on your birthday, and you can celebrate a lovely picnic in the meadow as well with your friends and family. 
3. A Maxi Dress
The most common type of 30th birthday photoshoot outfit ideas is to wear a beautiful gown on your birthday and capture a beautiful picture with balloons.
This is the most common type of birthday photoshoot idea is with balloons and a beautiful gown. So if you are in love with something like that, then you can easily recreate this idea.
4. Crop Top With High-Waisted Shorts
For young adults celebrating their birthdays, a sexier way to conduct a photo shoot is by wearing a crop top and high-waisted shorts. The shoot can be a bit sexier, fun, and casual as well.
So if this is the kind of vibe you wanna showcase in your birthday photos, then this idea is very easy to recreate and replicate.
5. Short Dress
For most teens and young adults, wearing short dresses for their birthday photoshoot is an obvious choice.
So you can easily pick your favorite mini-dress and create the perfect casual or stage for your photoshoot. And carrying the numbered balloons are a creative yet basic prob choice that you can select.
6. Gothic Look
If your birthday look is gothic and dark-themed, then wearing something black is the obvious choice for your birthday photoshoot. 
But you can even have fun with that. Wear a beautiful black gown or any other darker-toned dress, and with gothic makeup, you can easily create the perfect outfit. 
7. Blouse With Pleated Skirts
If you are a fashion girl and are in love with the french girl look, then wear a beautiful pleated skirt with that plain beautiful blouse, and your look will be complete.
And with a classy background setting, get the most beautiful yet classic pictures. With a simple makeup of just red lipstick, you are going to rock the French look for your birthday.
8. Power Suit
If the vibe for your birthday is to wear a power suit, then here are a few great examples of power suits that will look great for your birthday.
And for the background, you can keep it very simple but edgy with your power look. With a bag and bold yet natural makeup, you are going to look the exact vibe of a boss bitch!
9. Tunic With Leggings
If your birthday is during thanksgiving or during the fall, then you can click the cutest thanksgiving and fall-inspired pictures. Even with the beautiful orangish leaves in the background, the picture is going to be perfect.
With a simple warm tunic that is paired with pleather leggings, then your outfit birthday photoshoot ideas look absolutely gorgeous.
10. Black Blazer Dress
If you are celebrating your 30th birthday, then the perfect outfit 30th birthday photoshoot ideas is to wear a sexy black blazer. The blazer can be quite sexy and simple at the same time.
Black blazers are obviously very sexy and classic, making the look and the vibe gorgeous and hot. So make your look quite bold and beautiful, at the same time keeping the background simple. 
Wrapping Up!
The day of your birthday is the perfect day for you, and it should be all about you. So if you are going to plan a beautiful birthday photoshoot, then plan it beforehand, and not leave it for the day of your birthday. And plan your perfect photoshoot outfit as well.
So if you liked this article, then let me know in the comment section which of these outfit birthday photoshoot ideas you loved for your birthday.
Read Also: