Whenever you are buying a new sofa or a couch, you must always look for the look of it, as well as the comfortability of the cushions. However, in many cases, the cushions are non-removable from the couch. In such cases, it is hard to clean it. Hence, it is important to know how to clean couch cushions that cannot be removed.
In this article, we will mainly talk about the ways in which you can clean the non-removable cushions of your couch. Here, you will learn how to clean couch cushions that cannot be removed. Furthermore, we will give you a few steps, following which you will be able to efficiently clean your couch and make it hygienic and look good.
How To Clean Couch Cushions That Cannot Be Removed? – A Few Steps
Although you will rarely find sofas and couches that come with non-removable cushions, however, there are some sofas and upholstery couches that have cushions that are not removable. There are some kinds of couches that have in-built cushions in them. Hence it gets hard to clean since you will not be able to remove these couch cushions. The same is true for sofas made of leather.
The following are the ways that you can follow to clean your non-removable cushions from your couches:
1. Start Using Vacuum Cleaners
After you light vacuum the cushions on your couch, it will immediately start looking better than before. If the vacuum cleaner you are using does not come with an upholstery brush attachment, then we recommend you use a low-power setting. If you do not maintain that, the fabric might actually get torn.
2. Beat The Cushions In Your Couch
One of the most tried-and-tested ways of cleaning cushions is by beating them to remove the dust. However, whatever dust falls off the couch, make sure to clean it. Furthermore, if you are allergic to dust, cover your face and nose in particular. One of the best ways through which you can perform this job is by taking the couch outside in the Sun, with the help of someone. If you cannot remove the couch, you can skip the step.
3. Check The Label For The Cleaning Procedure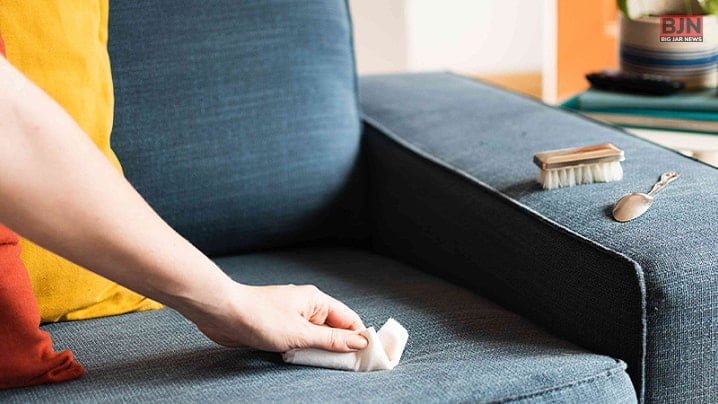 Before you apply any cleaning products on your cushions, you must check the label on each of the cushions about what cleaning procedure and products it recommends. You will find these tags under the cushions or on the back of the couch in general. Here, you will get information about how to clean the fabric.
Check whether you can use water-based products on your cushions or if the product needs solvent cleaners. However, before you apply any cleaner on the cushion fabric whole, try to apply it in a small area first and check the effect.
4. Use Water-Based Products For Cleaning The Cushions
You can use water-based products on your non-removable cushions if the cushion labels have W or S/W marked on them. If you are trying to tackle the marks and stains on your cushions, you must use warm water and cleaning products and apply them individually on the cushions. In such cases, do not start scrubbing at the start. Allow the cleaning soap to settle.
On the other hand, in upholstery cleaning, you can also apply a solution mixture of water and baking soda if you have stains on your cushions that are tough to remove. In general cases, you can just use fabric cleaner with water for the cushions.
5. Using Solvent-based Products For Cleaning The Cushions
As discussed in the third point that you should check the labels of the cushions before you try washing them cushions. If there is an S on the label or the tag of the cushion, it means that you should keep water-based products completely away from the cushion fabrics. In such cases, you must go for solvent-based cleaners.
With the help of solvent-based cleaners, you will be able to tackle the stains of the product well. On the other hand, you must also ensure that the room is well-ventilated if you are using solvent-based cleaners to clean your cushions since there will be a lot of foam.
6. Cleaning Cushions Through Steam: Couch Steam Cleaning
There are many cushions where, if you use water directly, they will get damaged. In such cases, you can use steam to clean the cushions effectively. You will be surprised to see how wonderfully the steam will work in the cushions to keep them clean.
Apart from that, you can also add couch cleaners or cleaning products along with the steam cleaner if you want deep couch cleaning. The heat from the steam will help in removing the dirt from the cushions, and the cleaning products will help in removing the stubborn ones.
7. Keeping The Couch In The Sun
Another great way to clean your couch cushions is to dry them in the Sun. Since the cushions are non-removable, you will then have to take the sofa to a place where the cushions get Sun's rays. This is a great way to remove dampness and mold from your cushions. The Sun's rays kill mold in couches and other items of similar material.
Cleaning Non-Removable Cushions – Another Great Alternative
If you are not willing to perform the above cleaning steps, consider calling a professional couch cleaning service near you that will use advanced ways of cleaning your couch completely. Apart from that, you can also call them in case you performed all the prior cleaning methods, but nothing worked for you.
Summing Up:  
Hope this article was helpful in giving you an idea of how to clean couch cushions that cannot be removed. Try the steps that we have explained in the previous sections. However, if you are not able to remove stains on your couch cushions, you can always call a professional cleaning service near you. If you find out any better way of cleaning non-removable cushions of a couch, consider commenting below.
Read Also: