With the 2024Silverado, Chevrolet offers a better-performing engine, an attractive and comfortable cabin, some polished interior and exterior design, improved safety features, and upgraded tech options. With the redesigned 2024 Chevy Silverado, the company mainly upgraded the looks and the features of the truck.
Despite being one of the best-selling trucks in the USA, Chevrolet is still coming up with new upgrades with the 2024 Silverado 1500 and also other trucks like the 2024 Silverado 2500HD and 3500HD. In this article, we will talk about the best upgrades that are provided in the truck, as well as the improvements in performance and luxury.
So, let's take a deep dive into the top updates that Chevrolet has provided in its new 2024 Silverado and what benefits the truck offers you.
When Will The 2024 Silverado Be Released?
To know more about this truck, you will also need to know the 2022 Chevrolet Silverado release date. The 2022 Chevy Silverado release date was between the months of February and March 2024 As Chevrolet spoke, "The robustly refreshed Chevrolet Silverado arrives at dealerships in spring 2022."
Chevrolet's 2022 Silverado: Major Upgrades In Look And Feel
In the year 2022, Chevrolet introduced the Silverado and expanded its offerings in terms of the features and looks of the vehicle. The following are the major trim that is provided by Chevrolet in the 2022 Silverado 1500 interior and exterior:
LT
LTZ
RST
ZR2
LT Trail Boss
High Country
To know about the major exterior and interior changes, look at the options given below.
2022 Chevy Silverado Interior: Major Changes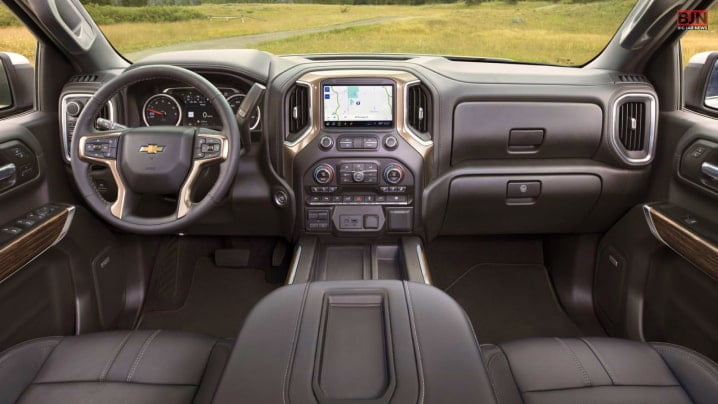 The interior of the 2022 Chevy Silverado 1500 has been fully redesigned to make it look more attractive and spacious. If you get the LT trim or something above that, you will see a newer passenger area with better materials and upgraded technology. Furthermore, in terms of looks, the truck feels more luxurious.
The 13.4-inch touchscreen display at the front will surely catch your eye, and you can control all the connections and infotainment options through this. Furthermore, in the tech system, Google Assistant has been provided, so by saying, "Hey Google," you can access any function of the truck.
According to the manufacturer, "The configurable cluster and infotainment display are designed to engage customers with new levels of personalization and intuitive interaction. It starts the moment the driver slides behind the wheel and the driver information center comes to life."
In terms of seat design, you will have the choice to choose at the time of buying. However, the most striking options are accessible through the high-country version of the 2022 Silverado. Here, you will get leather seats, better perforation, open-pore wood trims, patterned stitches, and many more.
2024 Chevy Silverado Exterior: Major Changes
The 2024 Silverado HD is gearing up for its highly anticipated release in the first quarter of the upcoming year. This revamped beast has undergone extensive upgrades that promise to elevate your driving experience. Let's dive into the exciting changes that await you.
First things first, when you lay eyes on the 2024 Silverado HD, you'll notice its fresh new look. The front end boasts an evolutionary design, featuring eye-catching C-shaped LED daytime running lights that are hard to miss. But that's not all – the LTZ, ZR2, and High Country trims come with advanced dual-projector headlights that light up the road like never before. And speaking of lights, there's a neat surprise with updated taillights that put on an animated lighting show when you arrive or bid your truck farewell.
Now, let's talk about some of the other upgrades. The 2024 Silverado HD proudly showcases a redesigned grille and a more aggressive front bumper. It's not just about looks, though – this model is now equipped with standard tow hooks for added utility and vertical fog lights for improved visibility. Plus, there's a bold hood scoop featuring the iconic "Chevrolet" lettering.
But we're not done yet. Wheels have been given a fresh update, and there's a revamped color palette to choose from. You'll have six exciting new options to consider: Sterling Gray, Dark Ash, Radiant Red, Auburn Metallic, Lakeshore Blue Metallic, and Meteorite Metallic.
In conclusion, the 2024 Silverado HD is set to make a splash with its stylish exterior upgrades, improved lighting, and practical enhancements. Whether you're a truck enthusiast or just in the market for a dependable and eye-catching vehicle, this new Silverado promises to deliver in spades when it hits the roads next year. Get ready to turn heads and enjoy a driving experience like never before.
How Was The Performance Enhancements In The 2022 Silverado
With the 2022 Silverado, Chevrolet offers you more engine choices, and you will have the option to choose from the ones given below:
2.7L Turbo High-Output Engine
5.3L V8 w/ Dynamic Fuel Management
3.0L Duramax Turbo-Diesel
6.2L V8
The most gain in performance is in the 2.7L Turbo High-Output Engine. According to Chevrolet, the "Enhanced 2.7L Turbo High-Output engine delivers 20 percent more torque and 3.0L Duramax Turbo-Diesel max towing increased by 4,000 pounds to 13,300."
Furthermore, with the help of the better-tuned 8-speed automatic transmission, and the popular 10-speed automatic transmission, the 2022 Chevy Silverado offers a transmission where the downshifts are quicker and the shifting is smoother. This ensures that all the power of the trailer is transferred efficiently on the road.
Improved Safety Features In The 2024 Silverado
The 2024 Silverado HD is your ultimate companion on the road, offering a range of standard safety and driver assistance features to keep you safe and confident during your journeys.
Safety is a top priority, and this truck doesn't disappoint. It's armed with advanced features like automatic emergency braking, forward collision alert, and lane departure warning. These features are like your trusty co-pilot, ensuring your well-being every time you hit the road. So, you can relax and enjoy the drive.
Parking and maneuvering in tight spots? No sweat. With an impressive 14 camera views at your disposal, navigating through tricky spaces becomes a breeze. Plus, the truck's StabiliTrak electronic stability control system provides exceptional road grip, even when faced with challenging driving conditions. So, you can take on any adventure with confidence.
But that's not all – the 2024 Silverado HD introduces exciting new tech. Say hello to Adaptive Cruise Control with Trailer. It's a game-changer for towing. This innovative feature takes into account the extra drag and increased braking distances when you're hauling a trailer, making your towing experience smoother and safer.
And if you're into fifth-wheel and gooseneck trailers, we've got you covered with Enhanced Transparent Trailer. It builds on the already impressive Transparent Trailer technology, giving you even more visibility and control when you're hitched up.
But wait, there's more! Trailer Side Blind Zone Alert extends your awareness while towing, helping you stay on top of your surroundings. With GCW Alert, you'll always know if your vehicle and trailer weight exceeds the Gross Combined Weight Rating, ensuring you tow within safe limits.
So, whether you're on a daily commute or embarking on a grand adventure, the 2024 Silverado HD has your back with cutting-edge safety features and technology that make every trip a breeze.
Summing Up – Is The 2024 Silverado Worth It?
With the 2024 Silverado, Chevrolet has provided some really good improvements, especially on performance and safety fronts. In terms of interior and exterior design, we have noticed many new enhancements that make the truck look more like a luxury vehicle.
In need of work and family purposes, the 2024 Chevy Silverado 1500 is one of the best in the market. Furthermore, with competitive pricing and enhanced features, this truck is really a good choice, even if you are looking for a luxurious pickup truck.
Read Also: